With Metronaut learning your favorite pieces is easy and fun.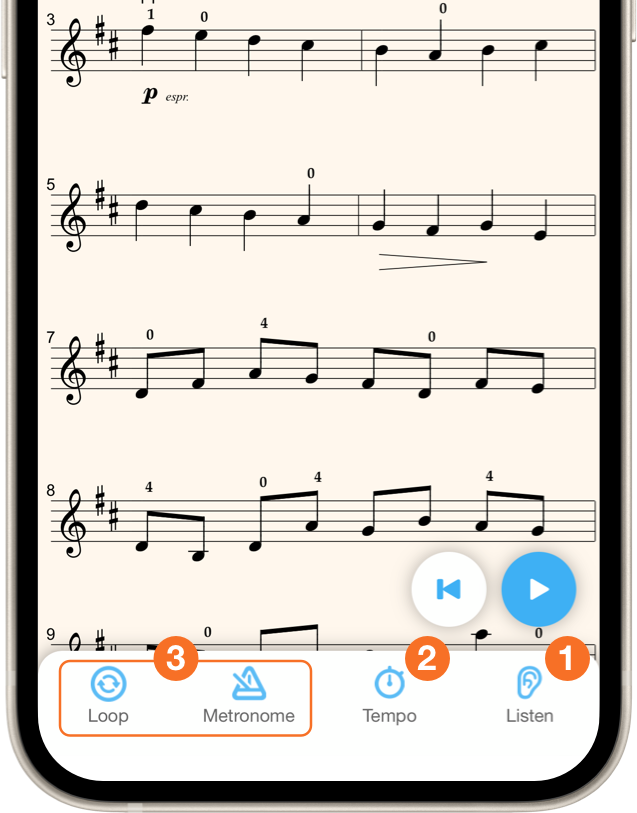 Let's take a quick tour of what you can do with the App:
The

Listen

button helps you get familiar with the piece by hearing both your part and the accompaniment.

The

Tempo

button allows you to customize the music accompaniment. Choose the tempo and its level of adaptation to your performance.

Fixed

Mode: The accompaniment plays at a fixed tempo, without adapting to you.

Wait

Mode: Play without accompaniment. The cursor moves when you play the note.

Smart

Mode: The accompaniment tempo adapts to yours in real-time like a musician would.

You can also turn

Feedback

on, so that Metronaut lets you know in real-time if you're playing on time or not. Please note that feedback is only available in combination with fixed tempo.

The

Metronome

and

Loop

buttons activate those tools to help you improve.
To discover all the tools offered when practicing (such as Tuner, Printing, Annotation, Transposition and more), tap the tools icon icon on the top right corner of your music sheet.